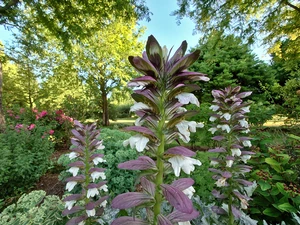 You don't know how to set up your garden? You don't know the growth, the spots, the need for watering etc. of the plants you would like to choose? Don't panic! We will be glad to help you. Simply use our free help for setting up your garden.
Just schedule an appointment with our staff at the nursery, and we will assist you in choosing and placing the plants you like. When we have finished, you will leave Vallonchêne with your plants you have bought and can start peacefully the creation of your garden.
Bring a plan of your garden (a hand drawn plan will do the job) with the sizes and some pictures of your garden. We will then make a tour through the nursery where you can tell us what you like, and we will tell you the feasibility. We will propose you eventually alternatives and will arrange the chosen plants. Finally, we will draw the beds on paper so that each plant finds its spot and everything can grow happily later on. All you will have to do is planting, assisted by our practical guides (handed over when you buy the plants).
We can even come to your place to plant everything you have bought. If you are interested, please ask for the price of this service.